National public health department accreditation consists of adoption of a set of standards, a process to measure health department performance against those standards, and recognition for those departments that meet the standards.  Public health accreditation standards define the expectations for all public health departments that seek to become accredited.  Public health department accreditation aims to improve the quality of practice and performance within public health departments.  A national public health department accreditation system has been developed because of the desire to continuously improve the quality of service and accountability of health departments to their stakeholders.
Accreditation provides a means for a public health department to identify performance improvement opportunities, enhance management, develop leadership, and strengthen relationships with members of the community.  The accreditation process will challenge the health department to think about the roles and responsibilities and how it fulfills them.  It will encourage and stimulate quality and performance improvement in the health department.
Accreditation demonstrates the capacity of the public health department to deliver the three core functions and the ten essential services of public health as represented in the graphic below.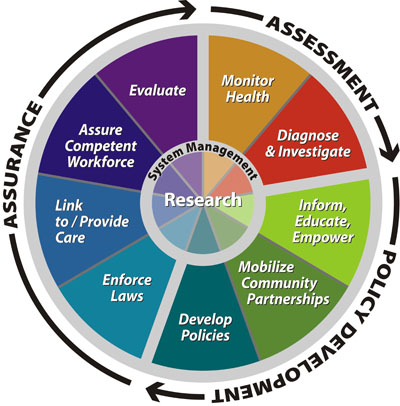 The Montgomery County Health Department is currently working through the Accreditation process to strengthen its commitment in building a Stronger Healthier Community.