August is National Immunization Awareness Month
August not only marks the beginning of school in Kentucky, but also National Immunization Awareness Month. National Immunization Awareness Month highlights the importance and benefits of immunizations. Getting vaccinated can prevent outbreaks of disease and save lives.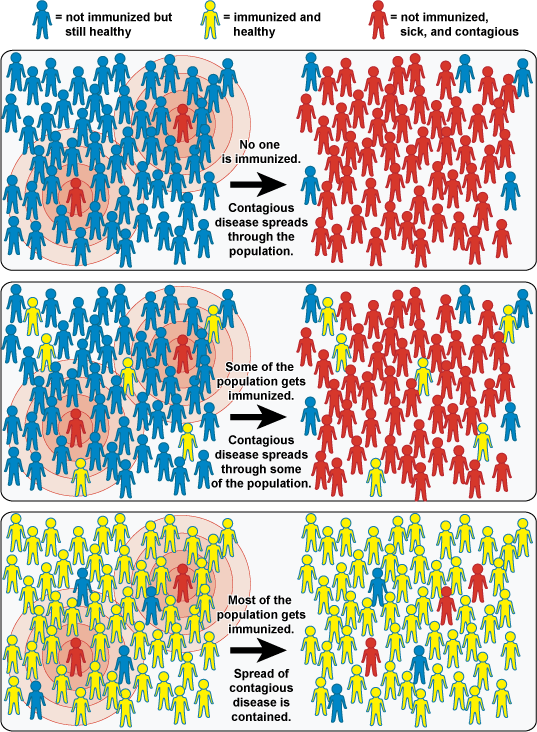 "Vaccines are a requirement for school entry and help protect the health of children and that of their classmates and their community," said Dr. Hiram Polk, commissioner, Kentucky Department for Public Health (DPH). "When children are not vaccinated, they could be at risk of disease and can possibly spread diseases to others in their classrooms and community."
When a critical portion of a community is immunized against a contagious disease, most members of the community are protected against that disease because there is little opportunity for an outbreak. Even those who are not eligible for certain vaccines—such as infants, pregnant women, or immunocompromised individuals—get some protection because the spread of contagious disease is contained. This is known as "community immunity."
In the graphic provided, the top box depicts a community in which no one is immunized and an outbreak occurs. In the middle box, some of the population is immunized but not enough to confer community immunity. In the bottom box, a critical portion of the population is immunized, protecting most community members.
The principle of community immunity applies to control of a variety of contagious diseases, including flu, chickenpox, measles, mumps, rotavirus, polio and whooping cough (pertussis).
Parents can find out more about providing the best protection by following the Advisory Committee on Immunization Practices (ACIP) recommended immunization schedule for persons age birth through 18 years.
Protection received from childhood vaccines decreases over time. Preteens, teens and adults may need to be revaccinated, even if they were completely vaccinated as children.
For more information about immunizations, contact the Kentucky Department for Public Health's Immunization Program at (502) 564-4478 or your local health department or healthcare provider.
More information is also available at www.vaccines.gov.